---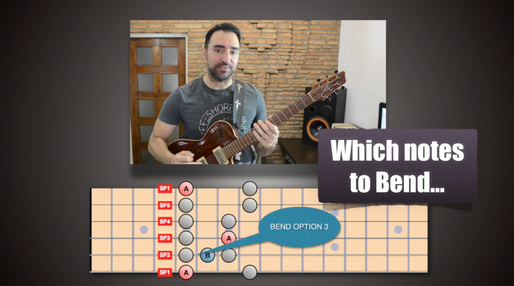 Take your guitar solos to the next level by mastering the art of string bending in pentatonic scales. Our video lesson and accompanying backing track playlist will teach you which notes to bend for a more dynamic and engaging sound.
---
---
String bending is a key technique for adding expression to your guitar solos. Our video lesson "Which Notes to Bend in Pentatonic Scales" shows you exactly which notes to bend in the pentatonic scale for dynamic and engaging lead guitar playing. 
Along with the video, a backing track is provided for practice. This will help you develop your skills and feel more confident when playing in real-life settings. 
Want more? You can find a newer version of this pentatonic bending article, in addition to many more lead guitar lessons and rhythm guitar tutorials on our new website - string.systems.
Watch the Video Lesson:
You can also sign up for our free mini-course called SFS Pentatonics Crash Course and learn how to play pentatonic scales, everywhere on the guitar fretboard, without memorizing "box" shapes:
Backing Track Playlist - A Minor Pentatonic / Blues Scale: